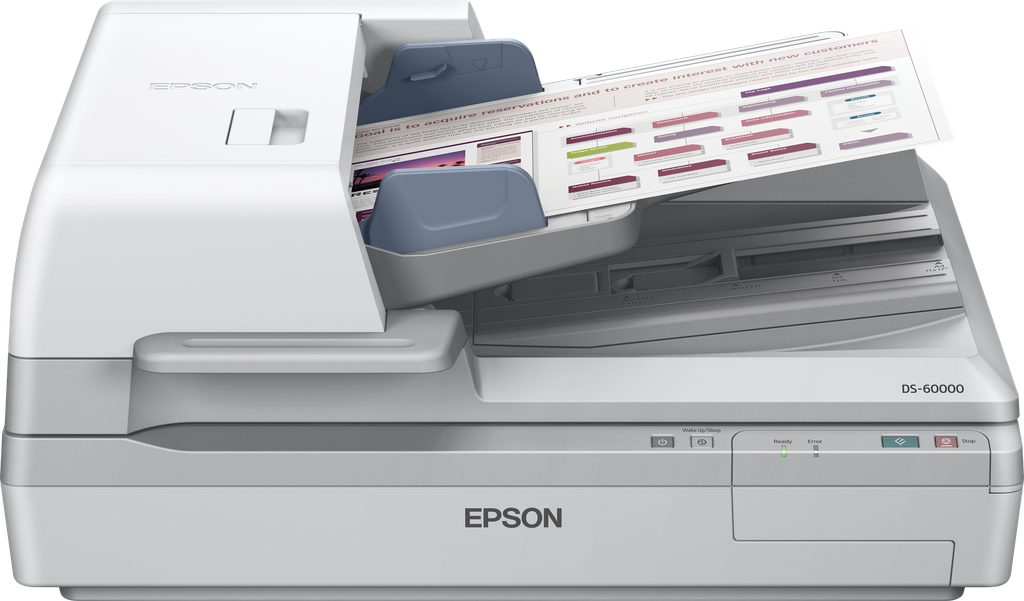 Epson WorkForce DS-60000
Les + produits : 

Vitesse de numérisation : 40 ppm

Chargeur automatique 200 feuilles jusqu'au A3

Détection de doublons

Numérisation Recto Verso en un seul passage
---

Epson est une entreprise japonaise qui s'est imposée comme l'un des leaders dans le domaine des technologies de l'image et de l'impression. Elle propose une gamme variée de produits, allant des imprimantes aux projecteurs, en passant par les scanners. Ces derniers sont réputés pour leur qualité d'image supérieure, leur vitesse de numérisation rapide et leur facilité d'utilisation.
---
Partager ce produit:
Epson WorkForce DS-60000 numérise jusqu'à 40 pages par minute et répond ainsi aux besoins des grandes et moyennes entreprises à la recherche d'une meilleure gestion de leurs flux de documents. Il permet une numérisation rapide et facile grâce à son chargeur automatique de documents pouvant contenir jusqu'à 200 feuilles au format A3 et grâce à ses fonctions de numérisation Recto Verso en un seul passage et de détection de doublons. De plus, les fonctionnalités de « Scan to »* offertes par Document Capture Pro permettent d'améliorer la productivité.
Document Capture Pro facilite l'intégration du scanner dans votre système de gestion de documents en accélérant les flux de travail et en permettant aux utilisateurs de capturer, de convertir et de distribuer les informations numérisées vers n'importe quelle bibliothèque électronique ou autre système de gestion des documents.
Epson WorkForce DS-60000 et ses fonctionnalités peuvent être partagés entre plusieurs utilisateurs grâce à un écran de contrôle interface Réseau proposé en option. Associée aux solutions de Document Capture Pro, la carte d'interface réseau permet aux utilisateurs de profiter des fonctionnalités Push-Scan et de personnaliser les fonctions de « Scan to », telles que « Scan to E-mail » ou bien « Scan to Microsoft SharePoint® » Ces fonctionnalités permettent de simplifier les tâches les plus complexes, facilitant ainsi l'utilisation du Workforce DS-60000 formation particulière.
La technologie LED Epson ReadyScan de numérisation instantanée, sans mercure, permet d'éviter le temps de préchauffage et de réduire la consommation d'énergie.

* Scan to E-mail, FTP, SharePoint, impression, répertoires web, répertoires réseau, Google Docs

Vitesse de numérisation :
40
Capacité du chargeur :
200
Connexion :
USB 2.0, Interface Ethernet (1000 Base-T/ 100-Base TX/ 10-Base-T) (en option)
Interface PC et connexion:
TWAIN, WIA, ISIS (Téléchargement Web), SANE (Linux), ICA (Mac)
Logiciels inclus :
Epson Document Capture Pro, Epson Document Capture Pro Server (téléchargement gratuit), Epson Event Manager (Mac uniquement), Epson Scan, EpsonNet Config
Taille de documents :
Jusqu'au A3
Largeur max des documents :
297
Longueur max des documents :
2540
Dimension (L x H x P mm) :
640‎ x 522 x 289
Volume de numérisation quotidienne :
5000
Départementaux

- nos autres scanners