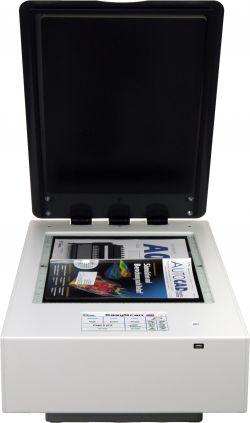 Image Access WideTEK 12
Les plus produits  
Productive and ergonomic

Scanning speed : 3 sec/ A3 document

Minimal installation : Scan-To-Net Technology

Integrated image processing : adjustment, dynamic enhancement, etc.

No warm-up time : LED Technology
---

Image Access est leader sur le marché des technologies en développant et distribuant des scanners grand format (à plat) et des solutions de numérisation innovantes.
---
Partager ce produit:
Flatbed Scanner WideTEK 12 for color scans for formats up to DIN A2
WideTEK® 12 is extremely fast and delivers high resolution color, black and white or grayscale images in jpeg, tiff, pdf and most other standard image output formats. It combines production-ready design and uniquely compact dimensions in a new class of professional but affordable scanners.
WideTEK® 12 can scan nearly anything: from business cards to diagrams in A3 format, books, newspapers, maps, construction drawings, bound documents and more.
Its most unique feature is the capability to capture 3D surfaces for industrial quality control and surface inspection applications. From Braille print on medication boxes to SMD parts on electronic boards, the superior image quality of the WideTEK 12 captures every detail.
The scanner needs less than three seconds to scan the largest format of 12.5 x 18.5 inches in normal mode at 300dpi and only 12 seconds in 3D mode at 600dpi.
Operate the scanner either with a standard web browser, the built in touchscreen or a mobile device like an iPad or Android tablet, using our application for mobile devices Scan2Pad®.
Walk up scanning, LED illumination, 3D capture WideTEK® 12 delivers optimal scan results
Résolution optique :
1200
Interface PC et connexion:
LAN
Largeur max des documents :
317
Longueur max des documents :
470
Dimension (L x H x P mm) :
222 x 440 x 795
Scanners de plans

- nos autres scanners