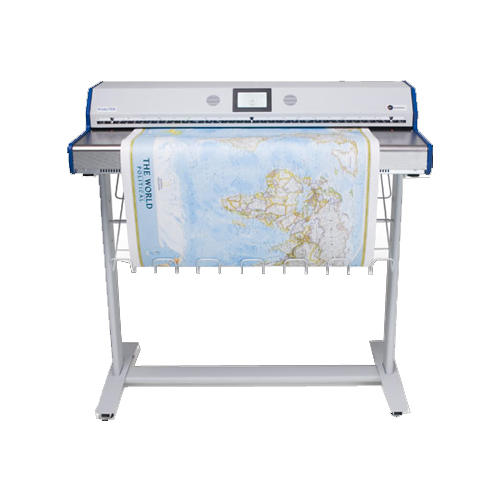 Image Access WideTEK 36 CCD
Les plus produits
Affordable CCD scanner

Speed 12,7 m/min in colour

Scan to FTP, SMB, USB, email

LED illumination

Software Batch Scan Wizard software included
---

Image Access
Image Access est leader sur le marché des technologies en développant et distribuant des scanners grand format (à plat) et des solutions de numérisation innovantes.
---
Partager ce produit:
WideTEK 36 – large format color scanner for documents up to 36 inches (915 mm) in width
This very fast but astonishingly quiet 36 inch color scanner combines user-friendliness, production-ready design and compact dimensions in a new class of scanners. State of the art illumination using bright white LEDs guarantees long lifetime and best scan results at a very low noise level in spite of the high speed. The cutting edge camera technology, consisting of a dust-protected, hermetically sealed camera box holding CCD systems using a patented stitching procedure, delivers an optical resolution of 1200 x 600 dpi.
The user operates the scanner either with a standard internet browser or alternatively, via the built-in touchscreen. A monitor directly connected to the scanner can be used for image control or to modify the scan parameters, without a client PC. Using the touch screen display, up to 30 different password protected jobs can be defined and stored. The jobs contain preconfigured settings such as scan parameters or directories on the network drives.
Gentle Scanning of Historical and Fragile Documents
WideTEK scanners scan historical and fragile documents particularly gently thanks to spring-loaded ball bearings in the document transport mechanism. Special transport rollers with individually spring loaded ball bearing pairs serving as pressure points ensure the best possible, gentle document transport. This allows a maximum document thickness of 3 mm. A new weight-balanced back plate allows users to adjust the strength with which the documents are lifted to the scan plane. Automatic document size recognition allows operators to pass sensitive documents through the middle of the scan area, protecting document edges from any damage.
 The exceptionally high scanning speed, dust-protected and encapsulated optical components and the absence of consumables characterize this highly efficient production-ready device. With a life expectancy of over one million scans, the WideTEK 36 redefines the price/performance ratio in the wide format scanner market.
Résolution optique :
1200
Interface PC et connexion:
Compatible Linux
Largeur max des documents :
915
Longueur max des documents :
950
Dimension (L x H x P mm) :
228 x 1095 x 507
Scanners de plans

- nos autres scanners